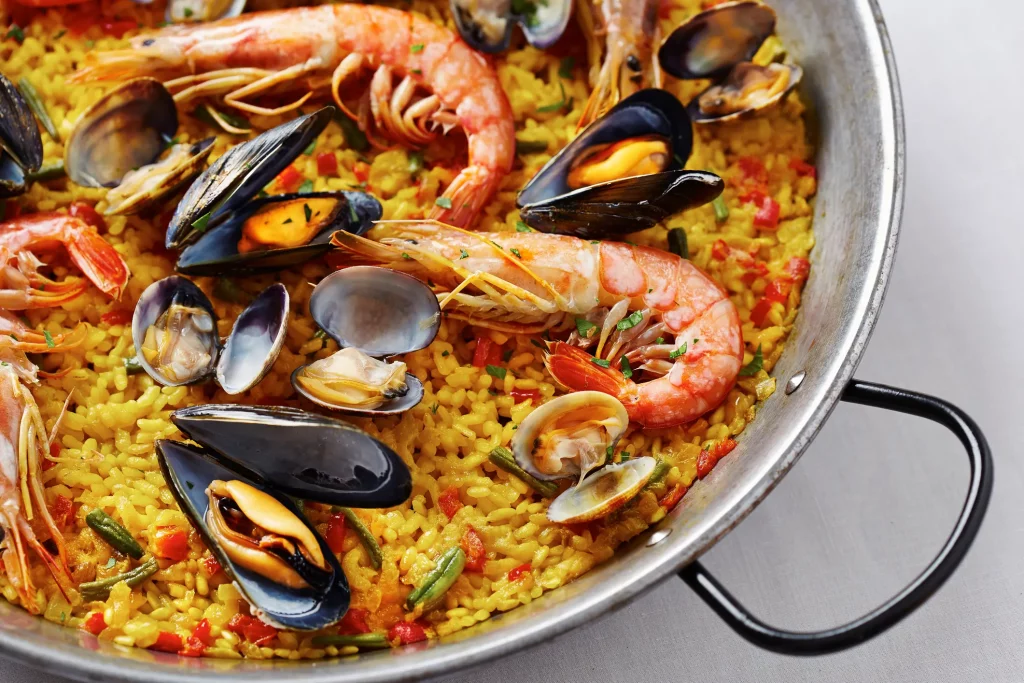 The 5 most common dishes in Spain
1. Spanish omelet
This dish is very simple: with just Olive Oil, potatoes, eggs, salt and onion – although some people prefer it without onion – you have a complete recipe.
It can be eaten at breakfast time, mid-morning, or as a main course for lunch or dinner. It is so versatile that several other ingredients can be added, such as parsley, spinach, peppers, mushrooms, or even chorizo. It is, therefore, a recipe that is open to creativity and variation.
This dish is not identified with any particular Spanish region. As a result, this omelet is known abroad as 'Spanish omelet'.
2. Gazpacho
Unlike Spanish omelet, gazpacho does identify with a specific Spanish region: Andalusia. It is a common Spanish dish that many people consume with a spoon, while others drink it in a glass like tomato juice, although it is much more than that. Its basic ingredients are: tomato, Olive Oil, vinegar, pepper, cucumber, bread, salt and garlic.
It is a cold soup that is very refreshing in summer. Indeed, summer is its season; it would be rather strange to see someone consuming it in winter.
3. Acorn-fed Iberian Ham
This is obviously not a main course; it's more of a snack. Served on a plate, sliced and dressed with a splash of olive oil it is a culinary delight. It can also be eaten at breakfast time with some bread and oil.
This ham originates from the lands of Castile and León, where you can see the pigs wandering leisurely through the Castilian pastures. These black Iberian pigs are fed only with acorns and natural herbs, giving the ham a unique and strong flavor that makes it one of the most sought after common foods in Spain.
4. Paella
We mustn't forget about paella. This dish is renowned internationally, and in many homes on Sundays it is customary to gather the entire family around it. It is an all-round dish made from Olive Oil, rice and saffron, as well as other ingredients from the sea or the land. The original dish is from Valencia, but when eaten in other regions of Spain other variations of the dish have been created:
– The main ingredient of Valencia paella is rabbit, in addition to fried garlic, onion, tomato and pepper. This paella may also contain chicken, peas, and local beans.
– By contrast, seafood paella may contain squid, prawns, cuttlefish, mussels and clams.
– Black rice paella, or 'paella negra', is typical of Galicia. Its black color comes from the use of squid ink, and its main ingredients are squid, prawns and clams.
5. Galician octopus
As the name suggests, this common Spanish dish originates from the region of Galicia. It is made from potatoes, octopus, Olive Oil, paprika and sea salt. The only thing you need is fresh octopus; the rest is a piece of cake. Anyone who has tasted a great Galician octopus dish knows it is a delicacy that is hard to beat.
These are the 5 best known dishes in Spain, both on the Peninsula and abroad. If you decide to prepare any of these dishes, be sure to use Carbonell Extra Virgin Olive Oil to give your dishes the gourmet touch they deserve.